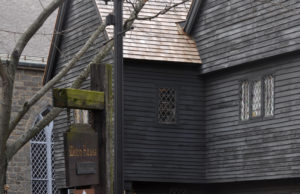 Mention Salem, Massachusetts, and you'll likely conjure up images from one of the darkest episodes in United States history: its infamous witch trials. While this period serves as a stern warning about religious intolerance and the need to separate church and state, it has also transformed the small colony into a modern tourist attraction. With witchcraft practitioners, pagans, history buffs and the naturally curious drawn to the New England community, it enjoys a mysterious and whimsical reputation today.
The Backstory Behind the Witch Trials
Smithsonian Magazine revealed in 2007 that more than 200 people were accused of practicing "the Devil's magic" during the Salem witch trials of 1692. By the time they ended, 20 people had been executed. Charges against the accused stemmed from claims by three of the town's preteen girls that they were being tormented and hexed by witches. These incidents may have revealed not only the ugliness of human nature, but also the latent prejudices against marginalized individuals among Salem's leadership. Bridget Bishop, a woman viewed by the locals as having loose morals, was the first person put to death. Those imprisoned and tried included Tituba, an African slave from the Caribbean; a beggar named Sarah Good; and Sarah Osborne, an elderly woman of little means.
As contributor Jess Blumberg explains in the Smithsonian write-up, the seeds of paranoia very quickly flourished. The accused soon included Martha Corey, a woman regarded as one of the town's most upstanding citizens, while Governor Phipps' wife was eventually brought in for questioning. The factors that led to this panic have been extensively discussed, but Blumberg reminded readers that Europe was the setting for many medieval "witch hunts" prior to settlers arriving in North America. The strict religious atmosphere fueled by Puritan mister Samuel Parris and rising tensions due to dwindling resources may be partially to blame. Modern toxicologists have also suggested that ergot, a hallucinogenic fungus that might have been growing on Salem's grain supply, may have triggered strange visions in some of the townspeople.
Modern Salem: Home to Magical Tourism
Fortunately, this Massachusetts city has long since recovered from the trials' aftereffects. A.V. Club writer Matt Crowley detailed in a 2015 article how witchy imagery has become an inextricable part of its legacy. One section has been named Witchcraft Heights, and police cars are decorated with silhouettes of a stereotypical witch riding on a broomstick. Meanwhile, a Witch Trials Memorial bears the names of those executed as a testament to the horrific events in 1692.
Magical images and witchy wording aren't just embedded in Salem's civic aspects. The town celebrates its Haunted Happenings for an entire month, close to the Halloween season. The festivities include a costume parade, a carnival, reenactments of the witch trials, spooky stories and film exhibitions. The city's website has information about more pagan-themed events and establishments such as witchcraft shops, public spell castings, magical apothecaries and walking tours. Furthermore, another Salem city guide mentions that the jurisdiction has even has named an "Official Witch of Salem." This honor was bestowed on a local businesswoman named Laurie Cabot, who serves as a Witchcraft high priestess and a volunteer worker with disabled children.
Remembering the Past While Looking to the Future
Salem has a unique place in American history. While it doesn't forget the paranoia that led to the deaths of innocent people, it has also become a hot destination for travelers. Lovers of all things witch-related and historical can find plenty to do in the town during the entire year. At the same time, it's also a booming tourist spot each fall, with its Halloween events enjoying the most popularity. The witchcraft and occult shops inside the city's limits, along with its thriving Wiccan and pagan communities, are proof that a wonderfully witchy spirit lives on in this Massachusetts town today.