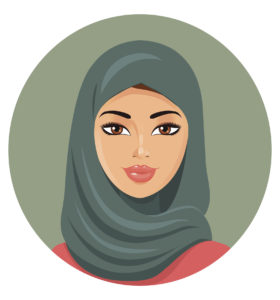 As March ends, it's time to wrap up Women's History Month. April begins Arab American Heritage Month, so let's talk about some women who have their roots in Middle Eastern countries.
Donna Shalala
Ms. Shalala is probably remembered most for serving as United States Secretary of Health and Human Services under President Bill Clinton, but she has also served in many high-ranking positions at universities. In 2008, President George W. Bush honored her by awarding her the Presidential Medal of Freedom. Her parents are from Lebanon.
Zaida Ben-Yusuf
Ms. Ben-Yusuf is one of the women who made a difference in photography in the early 20th century. She has been honored as one of the key figures in fine art photography for her work in fashion. Although Ben-Yusuf was born in London, her father was Algerian. She emigrated to the United States in the late 1800s, where she worked as a milliner before establishing herself as a fashion photographer.
Shakira
Most people recognize Shakira as a Latin performer from Colombia, and while she was born there, her paternal grandparents came from Lebanon. She's been influencing music since she hit the scene in 1990, when she was only 13 years old. Her song "Try Everything" from the movie "Zootopia" empowers children to just keep trying, even when they fail.
Salma Hayek
Ms. Hayek is another performer with Latin and Lebanese roots. She was born in Mexico, but her father's family was from Lebanon. Not only is she an award-winning actress, she's an activist who has brought a lot of awareness to violence against women. In 2005, she testified before the U.S. Senate Committee on the Judiciary.
Iman
As the widow of David Bowie, Iman holds a special place in music history, but she's important in her own right. She was born in Somalia but came to America in the early 1970s to start a modeling career. She quickly established herself as a high-fashion model. Today, not only is she a powerful businesswoman and occasional actress, she works with a number of charities that focus on children.
Teri Hatcher
Ms. Hatcher broke into stardom when she played Lois Lane in "Lois & Clark: The New Adventures of Superman." She's been a Bond girl, starred in "Desperate Housewives," and voiced a character in the Disney movie "Planes." Hatcher gets her Arab American ancestry from her mother, who is half-Syrian. She, too, supports many worthy causes, such as the Make-A-Wish Foundation, CARE, and UNICEF.
Kathy Najimy
Ms. Najimy's first major role was as Sister Mary Patrick in "Sister Act," but she's probably best known for voicing Peggy Hill on "King of the Hill." Her parents are Lebanese American. Najimy is an outspoken feminist who donates money and time to different charities that support human rights or gay rights. She has also been quite vocal about women's body and weight issues.
Amy Yasbeck
Amy Yasbeck was born to a mother with Irish roots and a father of Lebanese descent. As a child, she was on the package for the Easy-Bake Oven. She made her mark in Hollywood in the mid-1980s, most notably with a starring role in the sitcom "Wings." She established the John Ritter Foundation for Aortic Health in recognition of her late husband.
Diana Abu-Jaber
Ms. Abu-Jaber is the author of "Arabian Jazz" and "Birds of Paradise." The latter won the 2012 Arab American Book Award for Fiction in 2012. Her father has Jordanian heritage. Her books reflect culture and identity issues, not only those of women, but of men. She should definitely be on your to-read list.
America's heritage is a melting pot. We need to recognize that the immigrants who came here to start a better life,  Arab American included,   have made the culture of the United States what it is.