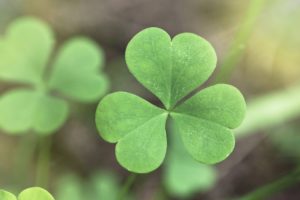 If you're  celebrating St. Patrick's Day and all things Irish on March 17 but can't get to a pub, maybe you'll enjoy one of these Irish movies that bring a little of the Emerald Isle to your home.
"The Quiet Man"
Although the film itself is a bit dated, this John Wayne and Maureen O'Hara movie is a classic Irish movie, loved both in America and in Ireland. An American boxer (Wayne) retires and relocates to Ireland, where he falls in love with a fiery Irishwoman (O'Hara).
"My Left Foot"
Daniel Day-Lewis stars as Christy Brown, an Irishman born with cerebral palsy. He learns to draw using his left foot and becomes a leading Irish painter. It's a true story of overcoming the odds. Jim Sheridan directed.
"The Field"
This movie is about the age-old conflict between the "old" and "new" traditions of a country. When a farmer's land is threatened to be sold, what does he do to protect it? Richard Harris was nominated for an Oscar for his role in this movie.
"The Secret of Kells"
This animated movie from 2009 is a lighter look at the Irish culture. A young boy is forced to overcome his deepest fears to protect his medieval outpost. The Celtic mystery and enchantment make this quest much different than what you might expect.
"Waking Ned Devine"
Ireland's version of "Weekend at Bernie's" involves a lottery winner who is found dead. The town tries to fool the authorities to get the money and share it. Just a charming comedy for a rainy night this spring.
"The Guard"
This buddy-cop movie is one of the most successful Irish indie movies ever. It's won multiple awards and received good reviews. It is a black comedy about two law enforcement authorities who are opposite in personality. It's fun and entertaining.
"The Wind That Shakes the Barley"
This drama is a war film set in the early 20th century. Two brothers join the Republican Army to fight for Irish Independence. The cinematography is beautiful, the story is well done, and the film was well received. If you can find a copy, it's worth watching.
"In the Name of the Father"
Day-Lewis and Sheridan teamed up again for this docudrama about an Irish citizen wrongly convicted of taking part in an IRA bomb attack. His false confession affects his family, too. Emma Thompson plays a British attorney who works tirelessly to prove his innocence.
"Once"
This modern musical brings the culture of Dublin to the screen as a street musician and a Czech immigrant fall in love. It's an interesting story in which you never learn the names of the main characters, but you see their romance through their songs.
How Did Ireland Become Known as the Emerald Isle?
Johnny Cash once sang a song about Ireland, "40 Shades of Green," but that's not where the nickname came from. In 1795, William Drennan penned a poem, "When Erin First Rose," which is the first time the name appeared in print:
Alas! for poor Erin that some are still seen,
Who would dye the grass red from their hatred to green;
Yet, oh! when you're up, and they're down, let them live,
Then yield them that mercy which they would not give.
Arm of Erin, be strong! but be gentle as brave;
And uplifted to strike, be still ready to save;
Let no feeling of vengeance presume to defile
The cause of, or men of, the Emerald Isle.
Read the whole poem here.
Enjoy St. Patrick's Day with some Irish tradition. Get out some corned beef, cook some cabbage, and enjoy some Irish beer this month to explore the Emerald Isle without leaving your home.