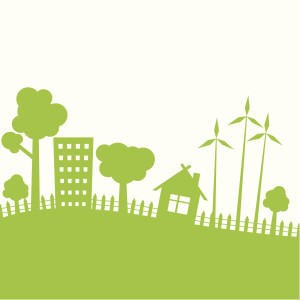 Ecopreaching is really happening. Many faith leaders are taking steps to promote good habits for the planet. It doesn't matter if you believe in the Christian version of God, in another higher being or even if you don't believe in higher beings, it's more important than ever before to take care of the world in which we live. Consider adding some of these elements to your worship practices to encourage the congregation to be more environmentally conscious and caring.
Walk around the building or surroundings where you worship. Who are your neighbors? Look beyond humans, but consider businesses, plants, animals and insects. How are you interacting with the world around you?
Is your church taking care of the landscape around the building? Think about more than just making the grounds pretty. Consider what types of animals visit the gardens. Have you disrupted a local waterway? Are you using the landscape to connect to the community? Use environmentally conscious landscaping principles.
Discuss environmental issues in the community with the congregation. Are there social injustices related to environmental issues that need to be confronted? Consider pollution, toxic dump sites or abandoned sites that might be dangerous to the community.
Meet with local environmental groups to hear their concerns, and work together for the good of the community. Find out how you can help the local naturalists who are attempting to protect the bees or the plants in your community.
Discuss local health issues with doctors in the community. Asthma and cancer often have connections to environmental concerns. Figure out what your congregation can do to be helpful in reducing problems.
Search out clean-energy businesses that are also working to meet the environmental needs of the community. Work together to reduce your faith's impact on the environment.
Bring in natural elements to your worship. Have sermons and find resources to help your community be more conscious and eco-friendly.
Meet with elected officials to see what they've noticed in the community and what concerns they have.
Know what your denomination, if you have one, is doing. Some organizations are offering grants to community non-profits to encourage energy-efficiency and eco-friendly updates.
Work with other churches to find ways to be better about using resources. Collaborate to reduce your impact on the environment. It could be as simple as ordering in bulk together to reduce the number of trucks that come into your town.
Environmentalism Isn't for One Group or Person
Care of the creation is an issue affecting every congregation. We all have to be good stewards of the resources we're given. Nature and human beings are not separate. We have to be more environmentally conscious of what we're doing. Many times, environmentalists are simply preaching to the choir, so it's important to find ways to reach those who haven't learned to be eco-friendly.
One or two people not driving is not going to make a huge change to the environment. We all have to be more conscious of what we're doing with the world around us. It's not enough to simply notice the pollution in the river – we have to take action to clean up the water.
Take your services outside when the weather permits. Green preaching in the great outdoors removes the barriers between people and the environment. Without walls, people can connect with nature and remember the importance of environmentally friendly practices. It's thought that if people spent more time in the great outdoors, they would want to protect it. Take your congregation out into the world, by a stream, on a mountain or in the garden. Look up at the sky at the bigger picture, then find some of the smallest animals on our planet by watching the ground.