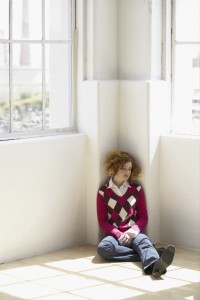 Loneliness and the feeling of being unwanted is the most terrible poverty. -Mother Teresa
The holidays may be all about family and togetherness, but for some people, this season only exacerbates the feelings of loneliness. If someone doesn't have a family any more or recently lost friends, it can be difficult to get through this time. More importantly, loneliness, at any time of year, is not healthy.
A Harvard study discovered a link between loneliness and higher levels of a blood-clotting protein called fibrinogen. Fibrinogen is bad for your health. The protein raises blood pressure and causes fatty deposits in the arteries, which lead to heart attacks and strokes. When the body's "fight or flight" stress levels are activated, fibrinogen levels increase.
It's thought that this occurs when people are lonely because we feel vulnerable and threatened when we get lonely. In the Harvard study, those with few friends, from 5 to 15 in their social circle, had 20 percent higher levels of fibrinogen in their body than those with 25 or more friends. This level of fibrinogen is the same as someone who had taken up smoking.
Another study from the University of York found that lonely people have a 30 percent higher risk of suffering from a stroke or heart disease. These researchers could not isolate the reason why this is, but the research is consistent with other studies. Being lonely is not good for your health.
Dealing With Loneliness
Try to figure out why you're not socially connected. Is it because you're not reaching out to the community? Maybe you've gotten busy and forgot to connect with your friends. It might be that you've moved out to the country and don't have your circle of friends anymore. Maybe you have a lot of people around you, but you don't have meaningful connections. If you can't answer basic questions about why and when you're lonely, then you can't address the problem.
It's not easy to take the first step and reach out to someone. But you do need to remember you aren't alone. Your social circle may not recognize that you feel lonely, which means it's up to you to share your feelings. Instead of dwelling on your loneliness, get busy. Take a walk. Do something creative, such as sewing, knitting or woodworking. Play sports. Volunteer in an organization whose mission you support. Consider getting a pet, but you need to make sure this little creature fits into your lifestyle. You'll have more responsibilities with a dog than you will with a cat. Don't get a puppy or kitty if you work long hours. Be responsible and spay or neuter your pet.
Get back out into society. Go out with the intention of having fun, not making friends. When you enjoy yourself, you'll automatically attract people to you. If you're shy or reserved, go places that you're familiar with. Take a class at the library. Join in a new group at church. Start a book club with another friend and watch it grow.
Loneliness doesn't have to paralyze you, but you do have to take steps to overcome your feelings. Remember that it's not only the elderly who get lonely. It can happen to people of all ages. Reach out to others who might be lonely. In helping someone else, you find joy and happiness in your own life.
Researchers believe that social factors affect our health. We should be picky about who we let into our circles, but we can't completely shut the world out. Share your hopes and dreams with others. Find people who want to help you succeed as much as you want success for them.