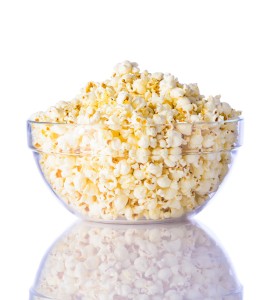 Most families spend weeks getting ready for the winter holidays. Then they're over, just like that. There might be some federal days early in the year, where you get a three-day weekend, but nothing like Christmas, Hanukah or Kwanza. What if, instead of having a huge celebration that involved lots of planning, you celebrated a weird holiday with your kids this month? Here are some suggestions for some fun holidays: 
January 17 – Kid Inventors Day – Watch a movie about an inventor, such as "Big Hero 6," "Flubber" or "Honey, I Shrunk the Kids." Get a science set that helps kids imagine and create. Just make it a fun evening of family time.
January 18 – Winnie the Pooh Day – On this day, A.A. Milne's birthday is celebrated on this fun holiday. The creator/author of the lovable, honey-colored bear and his friends would be 135 this year. Get out your honey pot and read a story about Pooh while enjoying his favorite sweet treat.
January 19 – Popcorn Day – Celebrate this fun movie treat by cooking a batch old-style, on the stove top or in the fireplace, instead of the microwave. Learn some of the history of popcorn and play the song "Take Me Out to the Ballgame," which situated popcorn as the unofficial snack of baseball.
January 24 – Compliment Day – Take some time today to talk about compliments. Give your child the task of complimenting someone they've overlooked. Help your child understand a genuine compliment versus an insincere one.
January 28 – National Kazoo Day – The kazoo really made its impact in the mid-18th century, but it wasn't until 1912 that the kazoo was manufactured to be more available to the general public. Practically anyone can play the kazoo, but it never really caught on in the music world. There's a whole website dedicated to the kazoo. www. nationalkazooday.com
February 4 – Thank Your Mailman Day – When was the last time you thought about your postal carrier? Their motto is "Through rain or snow, or sleet or hail, we'll carry the mail. We will not fail." This Saturday, do something for your USPS delivery person. Don't go big with a gift, because the ethics of postal carriers says that they cannot accept large presents. Don't give cash or anything valued $20 or more. Maybe a plate of cookies to share or a Starbucks gift card for $5.00 or $10.00. A written thank you note would be appreciated too.
February 4 – Eat Ice Cream for Breakfast Day – Celebrated on the first Saturday of February, what better way to kick off the weekend? Make homemade ice cream in a jar or snow ice cream for some added fun. Kellogg has a restaurant in New York City around this concept. If you need some ideas, check out the Kellogg's NYC website.
February 11 – Make a Friend Day – What a neat reminder to reach out to others on this fun holiday.  Suggest to your kids that they make a new friend today. Talk about cliques and bullying.
February 17 – Random Acts of Kindness Day – Another great reminder to do things for others. Every day should be a random acts of kindness day. You don't necessarily have to think big. Sweep your neighbor's sidewalk. Offer your pencil to your classmate without being asked. Later, over dinner, talk about how it felt to do something nice for another person.
February 20 – Love Your Pet Day – Do you really need a day to remind you to love your pet? Get a special toy for your four-legged friend and take some time to really play with him or her. Introduce your children to some different foods by making something special for your pet. Whip up a batch of pet-friendly muffins made with human-friendly food. Your kids might be enticed to try one.